Looking for the best Minecraft server hosts?
Minecraft is one of the most popular and engrossing games in the world. It's a hive of activity, with gamers coming together to build architectural havens to be proud of. The best thing is that you don't even need to know how to write code to get the most out of it. 
However, Minecraft is always better when you're using a top notch hosting server that has the community vibe, the style, the gameplay and the rules you prefer. Finding such a gem isn't easy because there are too many Minecraft server hosts to count on even three or four hands. 
The good news is that we've had a scout around to find the best ones for you to pick from. We've chosen six and picked them according to how they fare in each of these categories:
Modding

Price

Uptime

Setup

Latency

Live support
Let's take a look.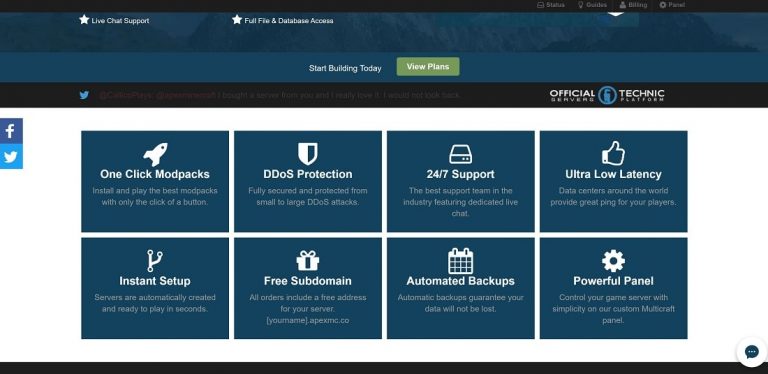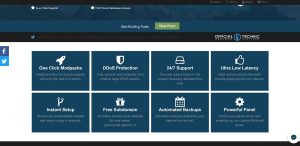 Apex Minecraft Hosting has been going since 2013. It aims to provide you with the highest level of Minecraft hosting services and its prices start out from $2.99 per month. 
It's one of my favorites for a few reasons. For one, it's far from sluggish – despite being a shared hosting. It has a live chat service, albeit one that isn't available 24/7. And it provides you with a free domain while offering automatic backups. 
It's also convenient, easy to use and setup is fast. As a bonus, Apex Minecraft Hosting is also reliable and it comes highly recommended. 
Speed 5/5
UpTime 5/5
Capacity 4/5
Customization 4/5
Support 5/5
Read my Full ApexMinecraftHosting Review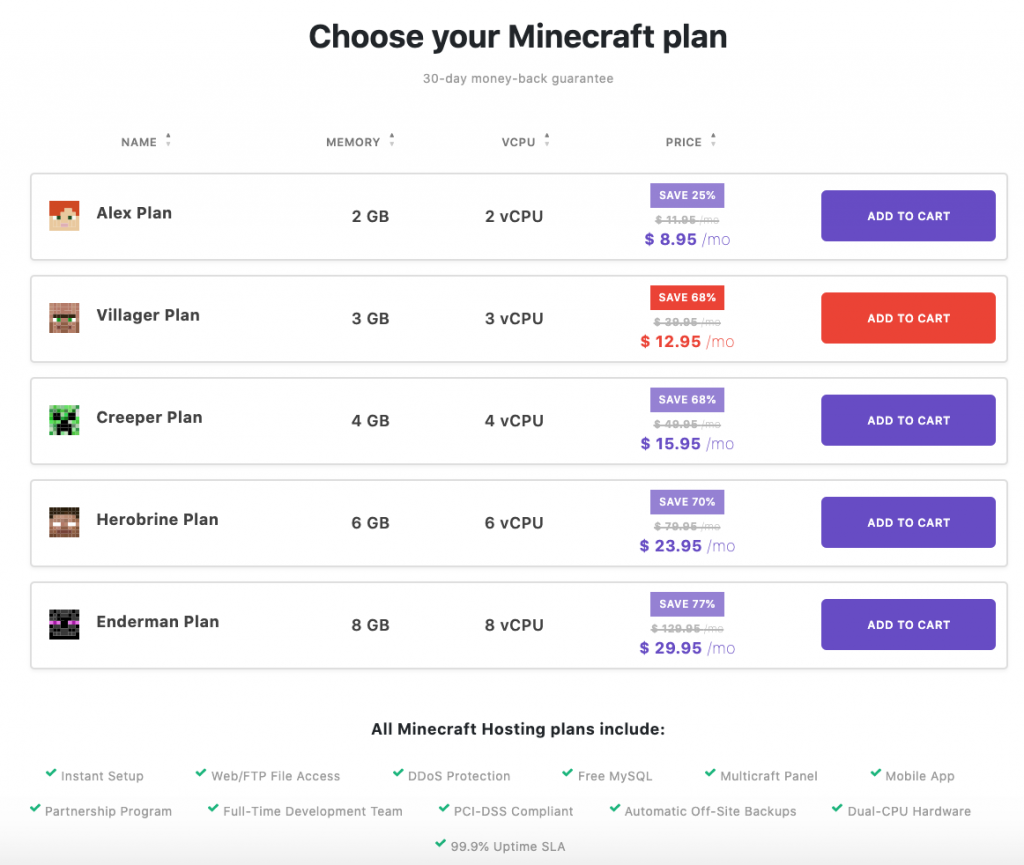 Hostinger offers an easy way to set up your Minecraft server within minutes. You can choose between 4 locations across the globe.
Like BisectHosting and Apex Hosting, they offer automatic backups plus DDOS protection. But they are standing out by giving you IPv4 + IPv6 addresses, a Minecraft Multicraft panel for monitoring and administrating, including your Web + FTP access.
On top of that, they promise a 99.90% uptime on super fast SSD drives. If you are not satisfied, they present you with a 30-day money-back guarantee.
A big downside of this service is its high entry price at 8.95$ per month.
Speed 5/5
UpTime 5/5
Capacity 5/5
Customisation 4/5
Support 5/5
ShockByte – Cheapest Minecraft Server Hosting That's Still Decent
ShockByte is easy and fast to purchase a server from, and it's the cheapest Minecraft Server hosting in this review. Once you've purchased X amount of ram server, you should receive it straight away. You will get a dedicated IP too if your server is big enough and ShockByte make it super easy to host a Minecraft server – either vanilla or modded. 
Hosting is of a really high quality when you consider the low price, but if we can put a strike against ShockByte it's that the support is average. It can take a few hours until your ticket is replied to, although waiting times can vary. When they do reply, though, the ShockByte team are knowledgeable and helpful. 
Use Code "Launch" for 25% off ShockByte
However, let's end on a high – ShockByte's prices start from $2.50 for 1GB of ram, which is super reasonable and for that you do get a top notch server that's yours to enjoy. 
Speed 4/5
UpTime 5/5
Capacity 4/5
Customisation 4/5
Support 3/5
Read my full ShockByte Hosting Review
BisectHosting – Best Minecraft Modded Server Hosting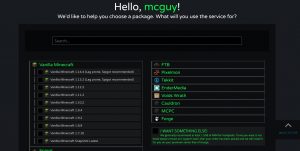 BisectHosting was founded by Minecraft gamers who were aiming to correct any niggling problems they themselves encountered with existing Minecraft server hosts. To that end, their 24/7 customer support is by far the best in the business. 
As well as that, you also get a free dedicated IP, DDoS protection and free unlimited slots. 
However, the features you're entitled to will depend on the plan you go for. There are three plans available:
Budget plan

Premium plan

Dedi server 
The premium plan is well worth upgrading to from the budget plan as you get more value for money, a faster service and better support. It's also easier to recover any backups. 
BisectHosting's support service is speedy and helpful, but you can also pay a further $5 for advanced tech support. Response time is super quick.
The customization options are also worth a mention, and as far as Minecraft modded server hosting goes, this is our top pick. 
Speed 5/5
UpTime 4/5
Capacity 4/5
Customisation 4/5
Support 5/5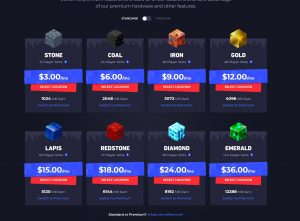 There are a number of plans offered by GG Servers, with our top pick being the Iron Plan that gets you 3GB of ram and a dedicated IP for as little as $12 per month. Setup is fast, taking just one minute, and then you just need to upload your server files, which should take less than an hour. 
However, GG Servers doesn't have the best capacity in this review, and you might find that it lags. Occasionally, the server may even crash. 
Support is great and if you're on the lookout for an SMP server, GG Servers is a top choice. 
A mark against GG Servers, however, is that it's hard to understand their policies. This is because their emails and website are poorly designed and the information is therefore a tad cloudy.
Speed 4/5
UpTime 3/5
Capacity 3/5
Customisation 4/5
Support 5/5
Germanode Minecraft Hosting
2019 Update:  Germanode has discontinued their minecraft hosting packages, but i've kept its info here for legacy purposes.
Germanode used to offer great free packages for those looking to host Minecraft worlds. It was one of the best cheap Minecraft server hosting services on the market and the support was very friendly, fast and knowledgeable.  They could host servers of 16GB ram and beyond. 
In mid 2019 they announced they would be putting their hosting on hiatus, due to personal reasons of the owner.  Hopefully they are okay and we can see this hosting service back soon!
Speed 3/5
UpTime 3/5
Capacity 3/5
Customisation 3/5
Support 5/5
Aternos – Best Free Minecraft Server Hosting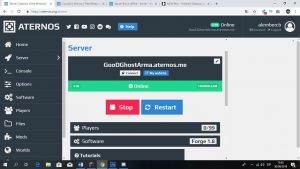 Aternos is a 100% free Minecraft server that has its pros and cons. A major pro, of course, is that it's totally free. However, being free means that you won't get the same high quality service as you will from the premium servers. 
That said, Aternos provides a great service, you're allowed to have numerous backups and a friend option lets a friend take over your server should you let them. It's also fully customisable and there are plenty of plugins available.
Moreover, it's brilliant that you can create your own server for no money. A free Minecraft serving hosting with 24/7 support? We'll take that. 
On the flip side, Aternos does take a while to start up and it does suffer from lag from time to time. 
Price 5/5
Speed 3/5
UpTime 3/5
Capacity 3/5
Customization 4/5
Support 3/5
Conclusion 
Hopefully things are a bit clearer now for you regarding which Minecraft server hosts to go for. These are the best Minecraft server hosting's we've personally come across, so the decision is now up to you. Pick the one that suits your needs best, choose a plan and take your Minecraft gameplay up to the next level.