ShockByte is a Minecraft hosting company whose pricing starts out at $2.50 per GB. You can create an account with a free subdomain, live chat is available 24/7 to answer your queries and your server is DDOS protected.
Naturally, there are a lot more questions the Minecraft community has when it comes to Minecraft servers. In this ShockByte review, we go over them to see just how credible this server is and whether or not it's worth your time, money and effort.
View ShockByte's Different Plans
How Easy Is It To Get Started With ShockByte?
Whether you're looking for a network server for just 2 or 3 people, or whether you need a host that can cater for 10+ people, ShockByte has plenty of plans available – and getting started on each one couldn't be easier.
You can choose a number of servers to run at any one time from a wide array of servers. All you need to do is pick one from the dropdown menu to begin, and your server will be up and running in less than 60 seconds.
All servers are guaranteed DDOS protection, setup is fully automated and instant, and you get a free subdomain included. Once payment has been processed, you'll be free to enjoy your very own Minecraft server.
User Friendliness Review
One of the biggest advantages of using ShockByte is you get access to a slick, super user friendly website. The user interface and general layout is brilliant, the branding is on point, while features include a live chat support.
It's also really easy to choose your server type and get up and running – you simply need to click on a drop down menu and pick the one that's right for you.
Meanwhile, actually getting started on launching your server couldn't be easier – all you need to do is press the bright green 'START' button on the website. If you need to stop or restart at anytime, it's easy to do that, too.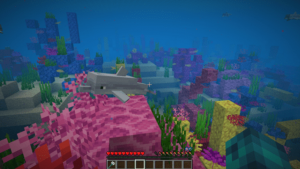 ShockByte Server Types
Any Minecraft server type you can think of is available with ShockByte. These include NukkitX, PocketMine-MP and Bedrock Dedicated Server.
Meanwhile, Vanilla, Forge, Snapshots, Sponge and CraftBukkit are among the huge variety of server versions on offer.
Modpacks are available too, including Technic and Feed the Beast, while it's possible for users to install their own custom server type with their own mods. You can also upload your own mods and plugins. If you need advice or help, all you need to do is reach out to their customer support team.
Reliability
Reliability is mostly a hit with ShockByte but there are a few issues that have been flagged by a number of users down the years. The biggest is downtime.
As a network server, it's really important that users are in the know when it comes to any planned downtime so that then can make the necessary plans/adjustments ahead of time. However, this server host has been known to go into unscheduled downtime without warning their customers.
Downtime, of course, is important – it usually means something good is happening, such as upgraded performance. When it happens without warning on a network server being used by thousands of gamers, it can gripe.
On the flip side, 24 hour refunds are offered if you're not satisfied at any point, while lag and pings are rare. Pings do happen now and then, however.
ShockByte Customer Support
As mentioned, live chat is available 24/7 wherever you are in the world. ShockByte is home to a team of experts who are on hand to answer your queries as best as they can.
You can also open a ticket for your queries and the team do their best to get back to you as soon as possible. Customer support is overall solid.
ShockByte Pricing Plans
ShockByte's costs are very reasonable and are indeed some of the most affordable around. Like most Minecraft servers, you pay monthly and there are plenty of packages to suit a variety of needs. Where you just need a single GB of RAM, or whether you need 8GB of RAM, it has you covered.
Here are their pricing plans:
Dirt – 1GB RAM for $2.50 per month
Sand – 2GB of RAM for $5 per month
Cobblestone – 3GB of RAM for $7.50 per month
Iron – 4GB of RAM for $10 per month
Gold – 5GB of RAM for $12.50 per month
Redstone – 6GB of RAM for $15 per month
Diamond – 7GB of RAM for $17.50 per month
Obsidian – 8 of RAM for $20 per month
Spartan – 10GB of RAM for $25 per month
Zeus – 12GB of RAM for $30 per month
Titan Plan – 16GB of RAM $40 per month
The amount of slots available varies from plan to plan. The Dirty Plan offers 20+ slots, while the Titan Plan offers unlimited slots.
Overall, ShockByte's prices are dynamic and their plans are versatile with what they offer.
Any Discounts Available?
There are ShockByte coupon codes available that offer as much as 5% cashback. On top of the already very reasonable pricing plans, this represents a good deal.
Use Code "Launch" for 25% off ShockByte
Is ShockByte Safe?
According to ScamAdvisor, ShockByte is safe to use. It's been independently verified and has a TrustScore rating of 91%.
Moreover, each plan comes with guaranteed DDOS protection and 100% UpTime so that your network server will be protected from incoming attacks.
A registered business in Australia, ShockByte has been revolutionizing the Minecraft hosting industry since 2013 and is perfectly legit and trustworthy.
Is ShockByte Worth It?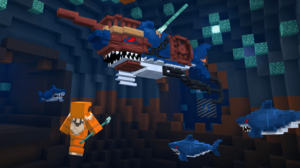 ShockByte is a trusted and reputable Minecraft server that offers affordable pricing plans, excellent customer support, and high-security levels. If you're looking to create a network server for a handful of people or 10+ gamers, this Minecraft host represents a decent choice, but be sure to compare it with the other best minecraft hosting servers out there so you can make a fully educated decision.